It is no secret that several major bands and artists like R.E.M., The B-52's, Pylon, of Montreal and many more began right here in the Classic City. The city of Athens is famous for their long history in the music scene. While many of those famed bands rose to the top, other local bands took their place, and the Athens music scene is still alive and well.
As the music continues to flow from the Classic City, the legacy of local music stores in Athens grows stronger as well. Athens has several locally owned music stores that offer all things music to its customers. 
Whether you are looking for instruments to learn to play, gear to start up a band or are looking to add to your vinyl collection, Athens has a store for it. The Red & Black has compiled a list of locally owned stores for all things music.
Instruments and Equipment
Musician's Warehouse
Located in the heart of downtown Athens next to Georgia Theatre, Musician's Warehouse offers many different types of musical instruments and gear including guitars, keyboards, drums, amplifiers, microphones and pedals. The music store has been running since 1995 and has plenty of experience when dealing with instruments from locals and also touring musicians.
Musician's Warehouse is located at 245 North Lumpkin Street and open from 11 a.m. to 6 p.m. Monday through Saturday and closed Sundays. 
Classic City Vintage Guitars
Relatively new to the Athens area, Classic City Vintage Guitars is an independent guitar shop that specializes in buying, selling and repairing all kinds of guitars, amplifiers and pedals. Owner Dylan Keel is a guitar craftsman that wanted to bring the city of Athens an independent guitar shop. The shop opened in 2021 and sits in the historic Chase Street Warehouses.
Classic City Vintage Guitars is located at 149 Oneta St., Suite 6A1 and is open noon to 6 p.m. Tuesday through Friday and closed Saturday, Sunday and Monday.
Records and CDs
Wuxtry Records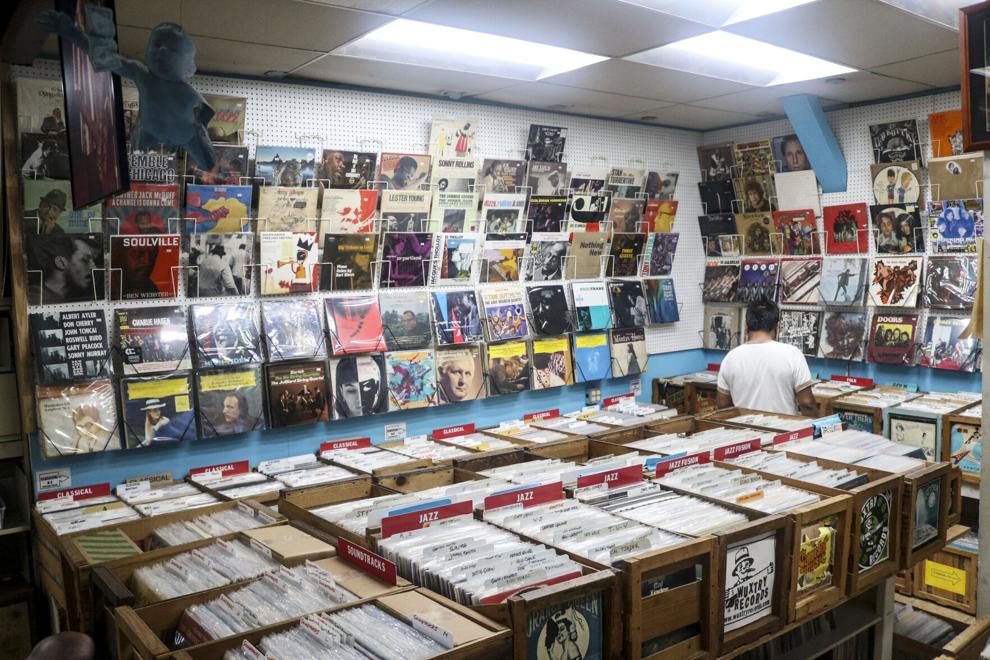 Arguably the most famous local shop of Athens, Wuxtry Records has remained an Athens music staple since it was founded in 1976. Located in the center of downtown Athens, Wuxtry Records sells a variety of items including new and used vinyls, CDs, posters and cassette tapes. The record store has also received national recognition from multiple publications including "Rolling Stone."
Wuxtry Records is located at 197 E Clayton St. and is open Monday through Saturday from 11 a.m. to 6 p.m. and Sundays from noon to 6 p.m.
Lo Yo Yo Stuff Records
Located towards the end of Washington Street and next to 40-Watt Club, Lo Yo Yo Stuff Records buys and sells vinyl, CDs, cassettes, posters, DVDs, Blu-Rays and VHS tapes. The record shop has a large selection of records and also stays open later than most music shops in town for evening shoppers.
Lo Yo Yo Stuff Records is located at 261 W Washington St. and open on Monday through Thursday from 1 p.m. to 7 p.m., Fridays from 1 p.m. to 9 p.m., Saturdays from noon to 9 p.m. and Sundays from 1 p.m. to 6 p.m.
The Record Booth
With a massive rooster marking the building's location on Lexington Road., The Record Booth is home to an enormous selection of vintage vinyl. The vintage record store sells its vinyl records for low costs and offers music from all genres. Along with records, the store sells turntables, music memorabilia and posters. With more vinyl records being stocked every week, The Record Booth is a great place to spend time sifting through records and finding good deals.
The Record Booth is located inside Lexington Village at 1743 Lexington Rd.  and open on Tuesday through Friday from 9:30 a.m. to 5:30 p.m., Saturdays from 10 a.m. to 5 p.m. and closed Sundays and Mondays.